A team of more than 165 advisers in the user field. We are the specialists in troubleshooting when we have a liquidity problem.

About thirty branches in the Montreal, North Shore and South Shore areas. We have been at your service for more than twenty years. We even had great social recognition with the show put on Ztélé, Pawnshop Quebec. More and more, people recognize that we are a need for the population of Quebec.

Without anyone really knowing it, every day we help thousands of people temporarily short of liquidity. Over 225,000 people have used our services over the past 21 years. Still, it's not nothing!

To put a little word on the green, Comptant.com is one of the greenest companies. Hey yes, we are 100% green! One of the largest recycling companies for consumer goods in Quebec. You may have something lying dormant in your attic, garage, or old jewelry in the back of your drawers.

Bring it to us… We will be happy to give you a little or a lot money and without any liability.

Comptant.com is part of Quebec's social culture.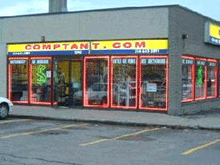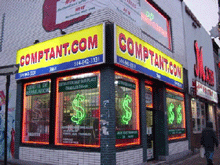 OUR MISSIONS
Comptant.com's primary mission is to offer cash quickly on any item of value in a few minutes.
You change your mind. have 30 days to cancel the transaction. Charges will apply.
Our second mission: The resale of used items to give them a second life.
In short, Comptant.com recycles used goods!
DO YOU HAVE GOODS THAT YOU NO LONGER USE?
Turn those into cash on the fly!
Comptant.com has several points of sale on the island of Montreal, Laval, Longueuil, St-Hyacinthe, St-Eustache and Trois-Rivières.

Comptant.com is a team of 165 advisors dynamics that only ask to answer one of your many questions or requests for information. So don't hesitate to give you a call and find out.

Want to know how much we could give you in cash on a property that you no longer need? Call us or send us a quote online!

Compant.com is a unique and innovative concept in the industry today.

Comptant.com is currently the largest chain of its kind in Canada.
Subscribe to the newsletter
Invalid email